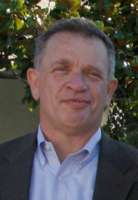 Benedetto Cico
Chair of the Board
San Anselm Chamber of Commerce
San Anselmo Inn & USABound Tours
https://www.youtube.com/watch?v=pLjuQRDrXbg

I take pride that I live in San Anselmo and own the only hotel in Town. The San Anselmo Inn is one of the oldest buildings in Town.
Originally from Italy, I've been in the U.S. for over 30 years. We moved to San Anselmo from New York City more than 18 years ago. We have four children and was attracted by the schools, the outdoors and the great community.
I have always been involved in travel and hospitality. We also own a 30-unit furnished apartment complex in NYC. We have a clientele of folks looking to come to northern California destinations. They typically are here for the outdoors and food that San Anselmo is known for. We see everything from mountain bikers to foodies looking to taste organic foods and local cheeses.
As a merchant, I want to attract customers for business, but as a resident, I don't want to attract so much growth that the town loses its character.
Because of my travel background, I'm often mentioned in trade and travel magazines in France and Italy. But what I try to do is promote the destination first. My intention is to try and get visitors to cross the bridge rather than stay in the Wharf. I let readers know that we are close to Napa and Sonoma and that we are just 25 minutes from the city.