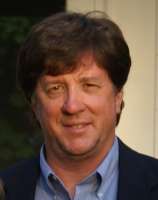 Greg Davison
Chair of the Board
San Anselm Chamber of Commerce
Tamalpais Union School District
Career Technology Teacher | School to Career
I am honored to be your Chair for the San Anselmo Chamber of Commerce. I am the Career Technology Teacher in the Tamalpais Union School District promoting the School to Career Internship program and teaching our students to be "work ready" for the 21st century. After spending 25 great years in the corporate world in Sales/Sales Management and leading teams to achieve results in the Fortune 100 and Federal Government sectors with AT&T, I appreciate getting to focus on our local community by working with our Marin and San Anselmo businesses to provide internships for our amazing high school students. I also serve on several other Boards, including the Sir Francis Drake Scholarship Foundation which awards financial aid to deserving Drake seniors.
I'm a proud native of Bellevue, Washington outside of Seattle, but my wife and I chose San Anselmo as the place to live, work, and raise our 2 sons. I attended Whitman College in Walla Walla, WA where I met my wife Lynn, made Friends for Life, and received a BA in History. I spent 10 years as an active volunteer/Youth Coach for SABA, West Marin Little League, CYO basketball, Pop Warner football, and San Anselmo Recreation Soccer. I spent a year getting my Teaching Credential at Dominican University and student teaching before starting at Sir Francis Drake High School. I have stayed active over the years including playing and coaching a coed softball team in the San Anselmo Parks and Recreation League, have done several Hood to Coast & Napa to Santa Cruz 200 mile team running relays, and one New York Marathon. I enjoy skiing and golf, and used our Sleepy Hollow hills to train for summiting Mt. Rainer. I have been to all 50 states, 35 countries, 42 National Parks, and up to 24 Major League Baseball parks!
We live in a special community here in San Anselmo that I take great pride in. I look forward to meeting you in the months ahead, discussing our Internship Program in more detail, and seeing you at our wonderful San Anselmo dining and shopping options.