Health Care Act-Required Notices Due Oct. 1
October 02, 2013
CalChamber Reminds Employers: Health Care Act-Required Notices Due Oct. 1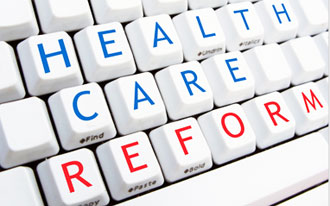 (September 25, 2013) Although the employer mandate provision of the Federal Patient Protection and Affordable Care Act (ACA) has been delayed, October 1, 2013 is still the deadline for employers to provide a notice of health care coverage options to their employees.
The required notice must inform employees of the existence of a health insurance marketplace, a description of services provided, how to contact the marketplace, and other required information.
Even though the deadline to provide notices is October 1, 2013, the U. S. Department of Labor (DOL) recently issued a clarification that there is no penalty for failure to provide the health insurance notice. Before the September 12 clarification from DOL, one interpretation of the law was that failure to comply with the notice requirement could have resulted in a $100 per day fine.
To help employers comply with the new notice, the California Chamber of Commerce is making forms available, along with recordings of several informational webinars on the ACA. The forms are free to members and non-members. The recorded webinars are free to CalChamber members and $99 for non-members. To obtain further information, visit CalChamber's webpage here.
Specific Requirements
Before October 1, all employers covered by the Fair Labor Standards Act are required to provide current employees with a notice regarding new health insurance marketplace coverage options-in California, that's Covered California.
Also starting October 1, employers must provide the notice to each new hire within 14 days of the employee beginning work.
The U.S. Department of Labor (DOL) has created two versions of the model notice-one for employers that do not offer a health plan and another for employers that do offer a health plan to some or all employees. Both versions of the model notice-OMB No. 1210-0149-are available here.
BACK to San Anselmo Business Focus
BACK to MEMBER NEWS